Ever wondered about whether yoga teacher training is right for you? This q-a with Elizabeth Herman, one of our past teacher training graduates, will inspire you for how to go from student to teacher with style, confidence, and authenticity. 
What inspired you to become a yoga teacher?
Elizabeth Herman: You've been enjoying yoga for a while. But suddenly you may experience a plateau. You may ask: How to become more of a yogi? How to go beyond a weekly hour of physical postures (asanas)? How to go deeper into yoga practice? I had similar questions that prompted me to explore yoga further. A friend suggested that I go to yoga teacher training. I took that advice, and today I am so grateful to my friend and myself.  
I was already involved with Art of Living by the time I decided to go to teacher training. Inspired by the Founder of Art of Living, Gurudev Sri Sri Ravi Shankar's depth of knowledge on yoga, I enrolled in the 3 week long teacher training program offered by the Foundation in 2006. I loved it so much that I took the now 4 weeks long (200 Hours) training in 2017 with Sri Sri School of Yoga at the majestic Art of Living Retreat Center in Boone, North Carolina. 
How did the training help you evolve your yoga practice?
Elizabeth Herman: I was already experiencing many benefits from taking weekly yoga classes at local studios, like:
Better sleep

Calmer thoughts

More positivity

Strength and flexibility

Relaxation and reduced stress
But these classes focused heavily on the physical practice of yoga, doing some asana (postures) sequences. I was yearning to go beyond these sequences by increasingly meditating as I practiced. 
After the teacher training, I had more freedom and time to practice, it became easier to hold postures longer and relax into meditation. My practice became more well-integrated. Asanas, pranayama, and meditation became part of the same flow each morning, and my sense of well-being began to blossom. 
At the time of my first training in 2006, I was a graduate student, teaching assistant and a single mom of two growing boys, ages 18 and 13. After spending 3 weeks at the teacher training, I became committed to being vegetarian. The lightness I experienced from the food there surpassed the pleasure of eating a non-vegetarian diet.
Being light meant dropping a lot of baggage. I had to drop a long list of things:
my

worries

about life back at home

meat 

the desire to talk about my problems 

the compulsion to solve everything

my need for elusive happiness

pursuit of connection with others 

everything that is unnecessary 
Fortunately, by the time of the training I had already dropped alcohol and smoking, so they didn't make the drop list.
Tell us something about the training itself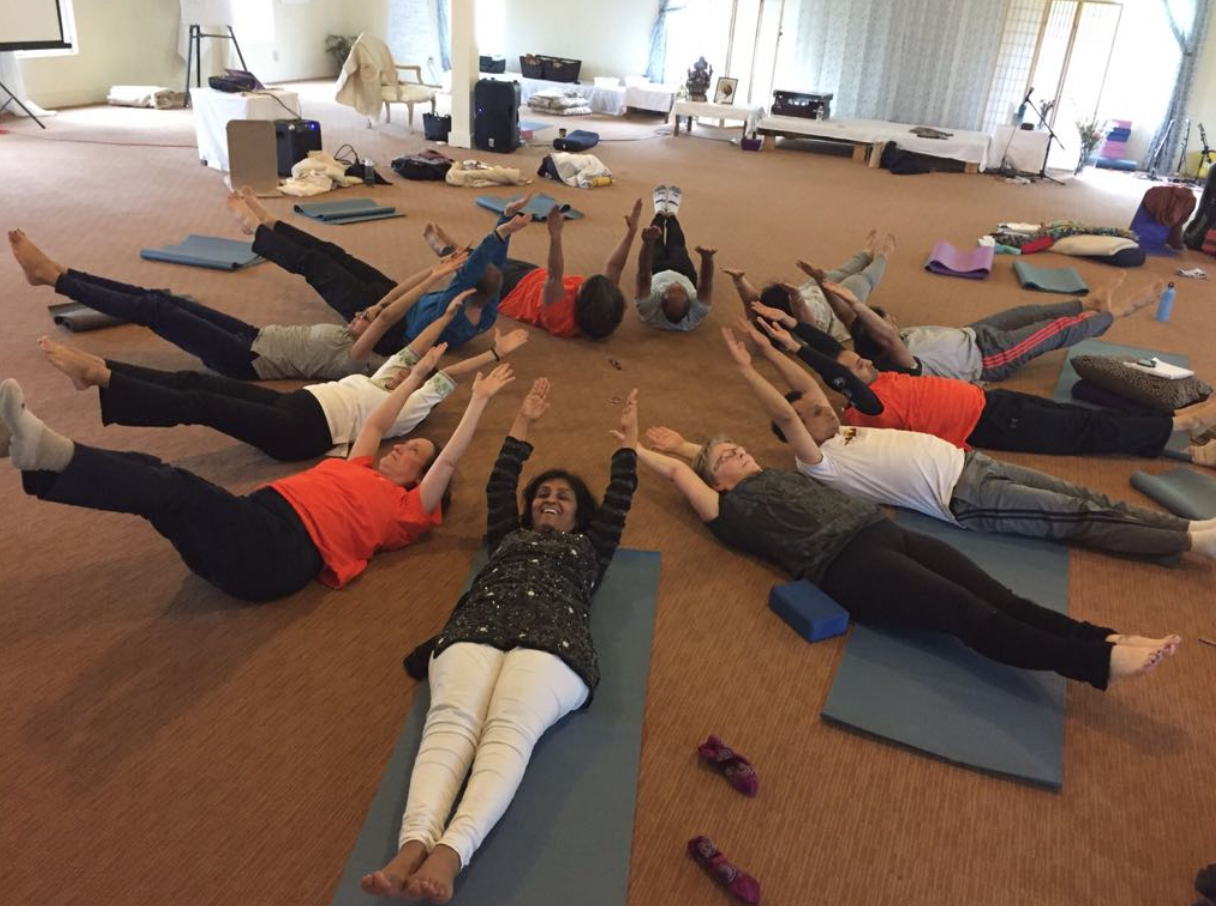 Elizabeth Herman: Both these trainings were residential, a set-up that provided much needed focus and proper facilities including healthy, fresh, nourishing meals during the training. 
The training offered me intensive explorations into the traditions of yoga, providing a comprehensive and multidimensional yoga education. What I liked the most were the deep roots of the course, which came from ancient yogic science, and the resulting unique, experiential understanding of yoga in its purity.
When after 11 years I enrolled in the four week training in 2017, I was working and living at the Art of Living Retreat Center where the training took place. Yoga was already integrated in my life. 
During this training, the last but not the least thing that I dropped was my slouch posture. 
What is the highlight of the training?
Elizabeth Herman: The training offered me knowledge about and ways to practice the four paths of yoga: 
Jnana Yoga- the path of knowledge

Bhakti Yoga- the path of devotion

Karma Yoga- the path of selfless service

Raja Yoga- the royal path (includes 8 limbs)
You can start to integrate your own practice through awareness of these four paths. By listening to knowledge talks, chanting and expressing love, performing acts of service, and adhering to social and personal responsibilities, the fuller meaning of yoga will burst open to you.
All these were beautifully ingrained into this training, making the experience even more unique and special.                                                                               
How did the training help improve your lifestyle?
Elizabeth Herman: Do you ever wonder whether your yoga practice could expand into a lifestyle? Take that smoothie full of veggies. Isn't it doing more than just nourishing your body? How does your mind feel after you drink it? Ayurveda, which literally means the 'science of life,' is the sister science of yoga, and gave me ways to use food and lifestyle proactively for my health and well being. We had wonderful sessions with Ayurveda experts during the training.
The great Sage Patanjali, the propounder of yoga,  says the real purpose of all the practices is to quiet and calm the mind. A calm mind makes friends more easily, and helps bring harmony into relationships.
The lead trainer besides leading our practice sessions, gave us amazing talks on how to apply the wisdom of yoga to our own life.
We reflected on and discussed the habits of our minds. At both of my teacher training programs, we practiced yoga every early morning, before the noon meal, and before dinner. Many of the most intensive asana sessions turned into raucous laughter.
Compelled to continue the early morning practice, I would often start at 5 am  once I got back home. There was nothing else I wanted more than practicing yoga. That's still the case today! I stopped attending local classes, and became my own teacher.
Enjoying teamwork with my fellow yoga buddies
Inspired by the transformation that I experienced with these training, I can't resist sharing about this wonderful training with others.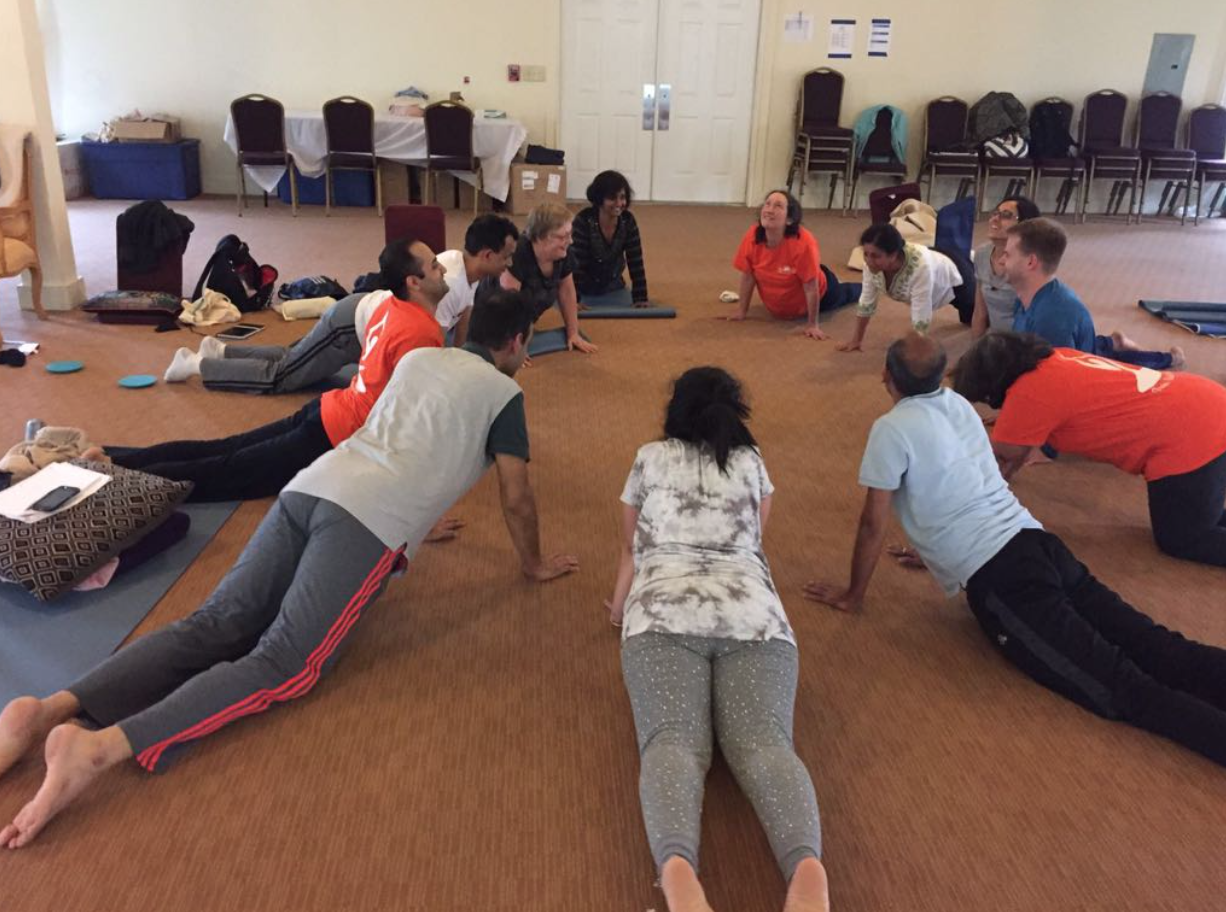 Whenever another training is approaching, I make calls to inspire others to undergo the training. At big events I make connections with the community and share my experiences of the training. It feels exhilarating to run into my training buddies after several months and renew lasting, emotional bonds.
If you decide to take the leap into teacher training, you can be sure that the benefits will be wide-ranging and broad. Get ready to practice yoga on your own, anytime! Just as the benefits of yoga itself have positively impacted your body, mind and emotions, the deepening of your practice keeps giving and enriching every aspect of life. How does it do this? The only way to know is experience.
Inspired to become a yoga teacher?
Sri Sri School of Yoga is a registered school with Yoga Alliance. It offers the most authentic, traditional (scripture-based), and accessible 200-Hour teacher training programs in online, hybrid and in-person set up. 
Talk to a Training Advisor to learn more about our 200-Hour Yoga Teacher Training Program offered in North America.