Whether you have recently graduated from yoga teacher training or you are an experienced yoga teacher, figuring out how to take your skills and offerings to the next level can be daunting.
There are many ways and opportunities for teaching yoga. Today let us have an overview of elevan potential options of teaching yoga that are available to you, their upsides and downsides, so you can be prepared to get the best out of them. Find your yoga niche—by thinking beyond the studio—and begin planning to build your classes and yoga career.
1. Classes at popular locations like gym, holistic wellness center, spa, health clubs, community center, retreat center, holiday cruise
Besides the yoga studios, these have been the most common places of teaching yoga in the West in the past century. It seems like most health and wellbeing facilities offer yoga now. Most run on some kind of memberships so members come to expect it. Retreat centers and holiday cruises also include yoga classes in their packages. 
Upside: 
These are easily accessible and cost-effective ways of practicing yoga for people, as yoga classes are often included in the cost of membership or packages.
The process of applying for work at a location like that is usually pretty straightforward – if they have an opening, you would fill out an application form, have an interview and get selected (or not) to teach a particular class.
Downside: 
A wide range of people with a wide range of abilities show up for those classes, which makes it a bit harder for the teacher to accommodate everybody's needs. 
It also makes it more challenging to facilitate and evaluate students' progress, because different people show up for different classes.
2. Classes at non-traditional locations like library, retail store, brewery, city park, schools, universities, churches, chiropractor's office, etc 
These are not very popular options. But if you are a beginner, you may explore these locations to offer some free classes. I have personally offered classes in libraries and parks in the beginning years of my teaching career. 
Upside:
These kinds of classes are useful for bringing in students who don't normally go to more traditional yoga or exercise locations, and can prompt their interest in yoga. 
Downside:
These types of classes have the same challenges for the teacher as classes in traditional locations (hard to cater to everyone's needs), but they also have other unique challenges. For example, in a retail environment you would have to maneuver around racks of clothing, in a library space you may have to deal with extra furniture, in a city park you would deal with weather, uneven surfaces and onlookers, and so on. Many of those locations will have an additional noise factor and the distraction of other people coming and going. More often than not, you would have to identify those locations yourself and then offer your services to management and/or potential students.
3. Classes at workplaces like offices, corporations, hospitals, nursing homes, etc 
More and more often we see businesses offering yoga as a perk to their employees. This can be a one-time offering, or an ongoing arrangement. Even hospitals, nursing homes and senior centers offer yoga classes to their staff members. 
Many companies have started to include yoga in their company's wellness programs worldwide. Besides improving employee health, such programs help employees become more satisfied and motivated in their work and personal lives. Studies in the Journal of Occupational Psychology and the Journal of Occupational Medicine have shown that mind-body stress reduction programs, offered in the workplace, have been effective in reducing work-related stress.
Upside:
The demand for corporate yoga has risen so much that many yoga teachers and instructors are hired for their services specifically for corporate offices. Building close relationships with consistent students is one of the greatest perks of being an office yoga teacher. Many employees have their first yoga experiences in office yoga. While teachers may make as little as $30 per class in gyms and in studios, corporations may pay upwards of $125 per class.
Downside:
Corporate classes come with unique challenges. For starters, there's the classroom location. While large corporations may have fitness centers with rooms meant for exercise, smaller companies make do with what they have; classes may be held in the lunchroom or conference room. Stacking conference tables on each other and rolling chairs out of the room can be part of the drill! 
In the workplace, students have a limited amount of time, and they're at different levels. Some show up late. It can be challenging to get them to leave pressing deadlines behind.
4. Classes at senior centers, assisted living, etc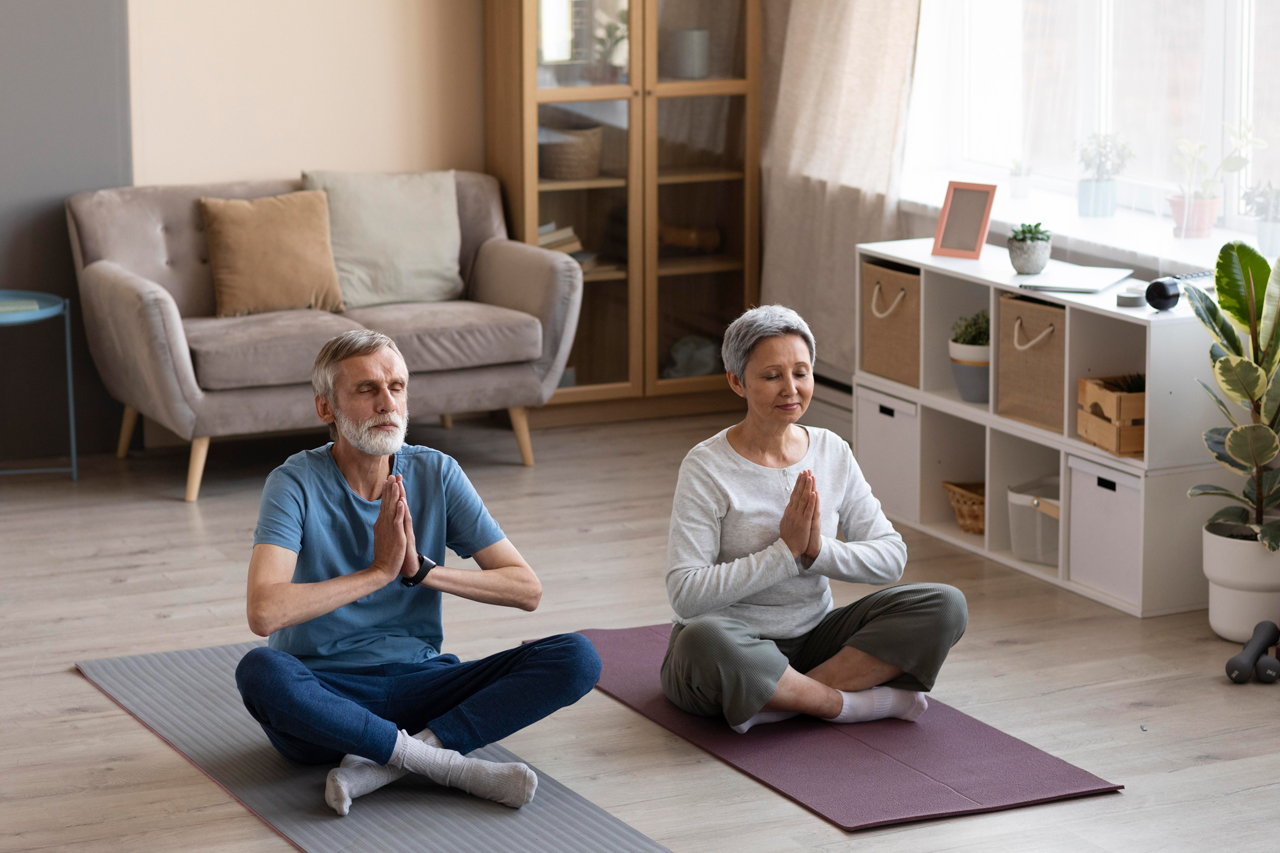 The number of seniors choosing an assisted living lifestyle is increasing every year. Yoga is an excellent method of exercise that has been shown to greatly benefit the aging population. That's because yoga is a spiritual discipline based on basic science, focusing on the connection of the mind and body. 
More and more seniors are practicing yoga for its low-impact movements, which help improve their flexibility, mobility, strength and balance, as well as their mental and emotional health. Yoga is a great choice for retirees at senior communities because it can be done at any age and with no specialized equipment.
Upside: 
Those benefits have led to the creation of instructional yoga programs at many senior living communities, led by professional instructors not just for their staff but also for their members. You just need to apply and if there is a vacancy, they will call you right away for an interview. 
Downside: 
This presents both an extraordinary opportunity and a serious challenge for yoga instructors who must be both a resource and guardians of safety for this uniquely vulnerable group. A typical class of seniors is likely to represent the most diverse mix of abilities of any age group. While some may be exceedingly healthy, most fit the profile of the average older adult in America, 80% of whom have at least one chronic health condition and 50% of whom have at least two.
5. Teaching a yoga series or workshop (4-weeks, 6-weeks, 10-weeks, one semester, etc) 
Each yoga series usually consists of several classes organized around a particular topic. You can offer yoga series in traditional or non-traditional locations, but they usually work best if they aim to meet specific needs of people who tend to hang out in those locations. For example, if you are teaching yoga for one semester at a college, you would want to tailor your series to the needs of college students. Those needs might include yoga poses that counteract the effects of prolonged sitting, breathing techniques that help them deal with stress and anxiety (especially around exams), meditations that help them focus, and maybe even some snippets of yoga philosophy to help them figure out what direction they want to go in with their studies. 
Upside:
Yoga series give us an opportunity to work with the same group of people on the same topic over a period of time, which means that we can get to know our students better, and get a chance to gradually build our classes within the series in depth and intensity. 
It also means that the teacher gets paid ahead of time for the entire series, whether or not your students attend every class, which provides the teacher with more reliable income. 
You would need to be creative and proactive in choosing your topic, locating your venue and approaching the management of your venue. Teaching your series in non-traditional locations expands your outreach and introduces your teaching to a wider audience.
Downside: 
You need to put effort into outreach and enrollment. You may not get a big number of participants. You need to think about the expenses.
6. One-on-one yoga sessions (in person or online)
Working with students one-on-one is a traditional way of teaching yoga. This is usually the most expensive option for students, but they also get the most bang for their buck. In a private session, the yoga teacher gets to work with the student's specific issues, direct and guide his/her progress. Much more than just a class for one person, private yoga sessions address the individual needs, goals and preferences of a particular student.
Upside:
Working with students one-on-one requires a slightly different set of skills. It is much more intimate work, you become an observer of your student's process and guide it in subtle ways to facilitate her own personal transformation. Private yoga sessions can be intellectually and financially rewarding.
Downside:
Finding private yoga clients can be challenging, especially when you are just starting out to teach yoga.
7. Seminars, conferences and webinars (in person and online) 
A seminar is a one-time event that usually lasts 2-3 hours (or longer up to 2-3 days). Seminars usually provide an in-depth dive into a particular topic, and often include a theoretical presentation on the subject combined with its practical exploration. Here are some examples of seminars/webinars: Yoga for Hip Tension, Yoga for Golfers, Avoiding Yoga Injuries – Common Alignment Mistakes in Forward Bends and Twists, and so on. 
How to get the best out of this:
There are many topics that you might want to teach a seminar on, but you have to be clear about how you will market it to potential students. You also need to be able to market it to the right people well in advance. That is why it can be useful to "take your show on the road", so to speak, and offer your seminar in a non-traditional venue instead of a yoga studio. That way you can bring your seminar directly to people who would be interested in that particular topic. For example, you can teach Yoga for Massage Therapists at a massage school, and design it in a way that meets the needs of massage therapists.
8. Audio/video channels like YouTube, Facebook, Instagram 
Nowadays students expect to be able to learn yoga via social channels. 
It is not very easy, especially if you want to offer professional quality videos. You need to be tech savvy, or able to afford to pay video professionals to help create videos for you. Usually these are free videos available to anybody. You may not make income out of it. But you can get a lot of followers that may become your potential clients.
If you are able to get a hang of generating revenue out of advertising on these channels, you may also be able to generate some income for yourself.
9. Destination yoga retreats in exotic locations 
A retreat is a multi-day event that is usually conducted in a beautiful and peaceful location. 
Upside:
Participating in a retreat gives your students a great opportunity to leave behind the mundane and to refocus on themselves. The attraction of a retreat is that students get to immerse themselves in yoga for several days while also engaging in other outdoor activities (hiking, swimming, surfing, biking, and so on). 
Challenge:
Leading and facilitating a yoga retreat is a deeply fulfilling and rewarding experience. However, organizing a yoga retreat can be a challenging endeavor, often stressful and overwhelming. You are responsible for choosing and booking a venue, planning the daily schedule, marketing your retreat, managing enrollment, and so many other aspects that are involved in any multiple-day event.
Here is my podcast on: How To Organize Successful Yoga Retreats


If you are up for organizing a destination retreat, here is a very useful retreat planner — A YOGA TEACHER'S HANDBOOK TO HOSTING SUCCESSFUL YOGA RETREATS. This will help you make retreat organizing fun, successful and memorable. It is packed with information, checklists, and suggestions to help you bring your retreat to the next level. Topics covered in the handbook include

Purpose and intention

Visualize your experience

It is all about teamwork

Planning ahead is key to success

Venue selection

Itinerary and program design

Marketing your retreat

Financials and profitability

Legal forms and liabilities




10. Assisting or mentoring at teacher training programs 
Most yoga studios stay afloat by offering Teacher Training Programs or some sort of in-depth studies for those who are interested. 
Upside:
These high quality teacher training programs like our 200H Yoga Teacher Training require a lot of assistance and have plenty of opportunities where you can volunteer yourself as a mentor or assistant. Not only will you learn a lot and will also sharpen your skills as a teacher. 
Downside:
It requires a longer time commitment, but if you have the bandwidth, it is a great opportunity to remain active as a yoga teacher. If you don't have much time, you could just offer one or two practice classes.
11. Teaching at yoga events like yoga festivals, international day of yoga, health and wellness expos, bhaktifest, etc
As a wellness professional, there are numerous benefits to attending festivals dedicated to your industry. Whether it's for professional advancement or personal fulfillment that you can carry into your business, the festivals offer an endless supply of inspiration and opportunities for networking with highly regarded names in the industry.
Upside:
Festivals are a fantastic place to have fun while expanding your career. Festivals are certainly all the rage these days and for those looking to broaden their teaching horizon this can be the perfect opportunity to test yourself out, try some new teaching methods or simply have some fun with a slightly different crowd. If you're serious about building this channel of yoga teaching into your offering – be patient, keep building relationships with yoga festival organizers (try nearby locations to begin with). With perseverance and grace, your dream will become a reality!

Downside:
You are unlikely to get nice flat floor surfaces to teach. Mostly you will be teaching in a tent like structure, it may not be flat, it could be on a slope. It could be very noisy and you may have people wandering in and out. While you may get a few practicing yogis most attendees are likely to be new. Keep it simple and above all keep it fun.  And don't expect them all to rock up in a perfectly matching LuluLemon kit. There'll be dresses, fancy dress outfits, glitter and fluro or even just a general lack of clothes!!
Venture into these options
These are some of the wonderful options that you have for teaching yoga. You can also come up with something completely different and unique. But it may not be a good idea to try it all at once. It is best to select 2-3 main types of offerings to focus on and consistently cultivate and grow it. Which of those options inspire you the most? Share with us. We are here to help you at any step you need any guidance or support.
Final thoughts
Keep in touch
Maintain contact with the other teachers and organizers who were in your program. Later you'll be able to share stories, lend support, and possibly even find jobs and substitute teaching opportunities for each other.
Give yourself time
Perhaps most important, give yourself the opportunity to grow and develop as a teacher. Remember that building any career takes time. If you find yourself distressed or frustrated, remember the yoga niyama of tapas (intense effort, austerity) and persevere through the difficult moments with the knowledge that you have chosen a path that offers enormous benefits to yourself and to others. You are blessed to bring transformation in people's lives.
Enjoy teaching! Start wherever you can, and watch your path unfold! Blessings!